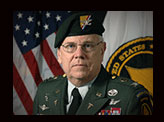 Former Detachment "A" member Colonel Warner D. "Rocky" Farr has just published a book entitled "The Death of the Golden Hour and the Return of the Future Guerrilla Hospital". 
Rocky served as a medic on Team 3 in Detachment "A" in the 1971-1972 time frame serving with Team 3 Commander Hermann Adler Commander and Bob Charest Team Sergeant.
Colonel Farr has a long and highly distinguished career in Special Forces with sterling professional credentials including  BSMT, MD, MPH, MSS, FACP, FAsMA, Associate Clinical Professor of Anatomic & Clinical Pathology, Associate Clinical Professor of Internal Medicine, Aerospace Medicine Specialist.  He is also a Distinguished Member of the Special Forces Regiment.
Click here view his book and professional biography.